As posted on News Blaze:
General Tools & Instruments, the leading supplier of precision specialty hand tools and electronic test instruments for the Hardware, Woodworking, Machining, Plumbing, Electrical and HVAC/R industries announces a new Power Precision Screwdriver Model #500.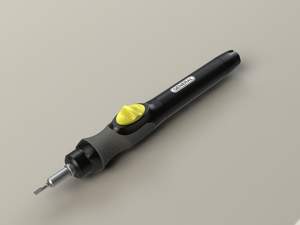 The world didn't know how much it needed, and would come to depend on, cordless drill/drivers -- until the industry invented and perfected them. But even these go-to tools are not much help when it comes to the tiny screws used in computers, electronics, hobby work and various types of close-fit, miniature assemblies.
Now there's the all-new UltraTECH(TM) Power Precision Screwdriver from General Tools & Instruments that can handle those difficult, repetitive screw-fastening jobs in extremely tight spaces. It's the world's first battery operated screwdriver of its size and capability, and a perfect tool for on-the-go technicians, hobbyists and anyone who works with electronics, small parts and micro assemblies.
Motorized, miniaturized, powerful and portable, this pen-size tool is superbly functional in design with an ABS housing, ergonomic rubber grip, a quick change chuck and an exclusive super micro-torque(TM) drive powered by two AAA batteries that will generate 100+ RPM. At just 7 3/4" in length, it fits neatly in hand or conveniently tucked into a jacket or lab coat.
The UltraTECH Power Precision Screwdriver comes complete with six interchangeable driver tips (slotted 1/8, 1/16", Phillips 0, 00 and star T6, T5). This tool makes a great gift or promotional item and is affordably list priced at $29.96.
About General Tools & Instruments Company
Headquartered in New York City for more than 87 years, General is the leader in precision specialty tools and instruments. Their vast array of over 2000 products is widely used by contractors and other professionals in Industrial Maintenance, HVAC/R installation and inspection, Occupational Health & Safety and Home Inspection.
For additional product information and photography, contact Peter Harper, VP Strategic Marketing, or Ron Gumucio at Kellen Communications, at the below addresses.
To learn more about General Tools & Instruments and its products, visit www.generaltools.com, or call Customer Support at 1-800-697-8665.